Saturday, April 10th, 2010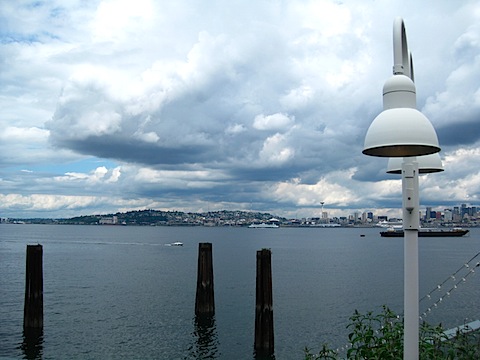 There are so many great restaurants in the greater Seattle, Washington area that it's difficult to pick one to grace with your presence. Each neighborhood has it's own secret or not so secret treasure.
There is a little place in West Seattle that has fantastic food and spectacular views that can be enjoyed simultaneously. You may have heard of it, it's called Salty's and is located on Alki Beach.
The dinner menu is all about the love of steak and seafood. The menu even goes so far to say that carnivores are welcome. It's totally my kind of place.
The dinner menu includes items such as:
The Pepper Punch which is a 16-ounce T-Bone crusted with Madagascar peppercorns and topped with Rogue River Bleu Cheese. You can add a half-pound of king crab legs or snow crab legs if you like that kind of thing.
Seafood Fritti Martini which includes fried salmon, halibut, scallops prawns and clam strips. The martini also comes with home made cocktail and tartar sauce. Seriously, my mouth is watering.
There are also crab cakes, manilla clams and local oysters on the half shell available for your pleasure.
Dinner at Salty's on Alki can seem like it costs a pretty penny if you're used to the chain-ish types of restaurants, but man is it worth it.
In April the special menu event is lobster and shrimp stuffed almond served with risotto simmered with olive oil, onions, garlic, and dry vermouth. It's their take on the winter comfort food with a spring twist.
I can't wait to visit Salty's again. Maybe I'll go during Seattle's restaurant week. 112 restaurants in the Seattle are offering 3 course meals for $25  and Salty's is one of them. Restaurant week is April 18-29, 2010 and it's a great opportunity to try out a new place or go back to a favorite haunt.
Hours for dinner vary, but the last seating at night is between 8:30 and 9:30 – winter and summer respectively.
1936 Harbor Avenue. S.W.
Seattle, WA 98126
Restaurant (206) 937-1600
Catering (206) 937-1085
Fax (206) 937-1430