Tuesday, August 10th, 2010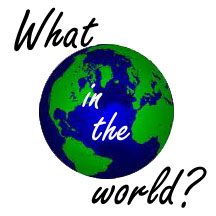 Welcome to another week of news updates!
South America
Briton Ed Stafford on Monday became the first person in history to walk the length of the Amazon River. He started in Peru 2 ½ years ago, and finished Monday morning by leaping into the Atlantic Ocean at Brazil's Crispim Beach. Stafford embarked upon the walk in order to better understand and raise awareness about the Amazon and the complex forces that are bringing about its destruction. His mission literally saved his life. Along with meeting all manner of creepy crawlies and vicious things with large teeth, Stafford and a companion were captured by an Indian community that was distrustful of outsiders. Luckily, after hearing the purpose of Stafford's expedition, he and his fellow walker were allowed to continue. Pretty crazy stuff. His mission cost roughly $100,000, and was paid for by sponsoring companies and donations. Do you think it was worth it?
The Middle-East
On Monday, Iran activated equipment to enrich uranium more efficiently. The move defies the U.N. security council, which has been trying to stop Iran from doing just such a thing. Many in the international community are not convinced by Iran's claims that its nuclear activity is meant for peaceful purposes only.
Asia
Terrible flooding has been wreaking havoc in China, India and Pakistan — some of the worst flooding on record in each of the countries. In China, at least 330 have died and 1,100 more are missing. In India-controlled Kashmir, 140 have been confirmed dead, and another 500 are missing. In Pakistan, the government is estimating 13.8 million people have been affected by the flooding that has swept away people, homes, and most of the country's crops. Over the past two weeks, 1,500 have been killed, and roughly 600,000 remain marooned in the Swat Valley, which rescue workers have so far failed to reach.
Tensions are still high between the Koreas. South Korea (along with the U.S.) ended five days of naval drills recently, and North Korea is still unhappy about it, and the claims that they sank a South Korean warship in March. On Monday, North Korea fired about 110 rounds of artillery near its disputed sea border with South Korea. No damage or injuries were caused, and the U.S. simply called it "chest-thumping." Over the weekend, North Korea captured a South Korean fishing boat that may have drifted unknowingly into its waters.
Russia (especially Moscow) is really having a rough summer. They're experiencing the worst heat wave they've seen in the past 1,000 years, with temperatures soaring into the 100s — compared to usual summer readings of around 75 degrees Fahrenheit. To compound matters, wildfires have broken out in the land surrounding Moscow, blanketing the city in poisonous smog that is only making the heat seem worse. Thousands have died as a result of the fires, smog and heat. An AP story reported up to 700 deaths per day.
Europe
If you've been to Rome, then you've probably seen the famous Roman Colosseum. And you've probably seen the structure lit up impressively after dark. But, up until now, you've only been able to tour the inside of the architectural wonder during daylight hours. Well, that's going to change. Soon, tourists will be able to stroll through the inside of the arena on Saturday nights — but for a limited time only. For 7 straight Saturdays beginning August 21, groups of 40 people will be lead through the Colosseum from 9 p.m. to midnight. Night tours will also be offered at the Baths of Caracalla (ruins of ancient thermal baths) on Saturdays from August 21 until October 23. So, if you plan to be in Rome on any of these weekends, it might be something worth checking out.
Africa
Rwanda on Monday held its second presidential election since the infamous 1994 genocide that left hundreds of thousands dead. President Paul Kagame, utilizing pop music and a Facebook campaign, is expected to win re-election easily. He won election in 2003 with 95 percent of the vote. Kagame has guided the country through a period of relatively peaceful prosperity since the genocide, though reports have surfaced of the government cracking down harshly on any dissenters. The election is reported to have gone smoothly across the country.
The U.S.
All is still going fairly to plan in the Gulf of Mexico. The offending well has been plugged with a static kill (mud and cement pushed into the top of the blown well), and engineers have begun drilling the final 100 feet of a relief well that will be the final period to the oil spill sentence. Finally. Meanwhile, fishermen in the area are praying that they can still make a living this year.
Just For Fun
Headed to New York's Times Square anytime soon? Then you should probably check out Pop-Tarts World. Times Square already boasts a giant Hershey's store, and an ode to MnMs. But now it will also honor America's favorite toaster pastry. At the new Kellogg's-sponsored store, you'll be able to try "Pop-Tart sushi," order a customized pastry, suggest new types of Pop-Tarts, or create a custom box filled with a mix of your favorite flavors, among other things. If you go, let me know how awesome it is.
Naked News of the Week
Not quite truly naked news… but close enough. And definitely amusing. The owner of an Ohio strip club and some of his dancers began protesting at a church that has been doing the same to them for four years. On Sunday, bikini-clad dancers sat in camp chairs outside the church in protest of the church's protests. For years, the congregation has been coming to the Foxhole strip club armed with bullhorns, signs, and video cameras to harass patrons and post customers' license plate numbers online. The strip club got fed up, and decided to give the church a taste of its own medicine… just with substantially less clothing.
P.S. — I really enjoyed adding "strippers" as a tag for this post… haha.