Thursday, June 3rd, 2010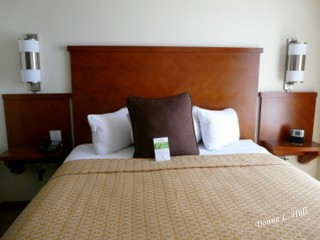 The staff at Hyatt Place in Plano, Texas, may just be the friendliest hotel staff that I've encountered on my travels. It's a marked difference from my colleague, Spencer Spellman's recent experience at a Hyatt Place in Charleston, South Carolina.
From the warm greeting the desk staff gave us as my husband and I walked through the door to the personal tour of the facility, I felt as if we were long awaited guests. Each time I passed through the lobby, one of the staff would ask, "Do you need anything? Are you pleased with your accommodations?" They even delivered my husband's shoes to our room after he left them under the portico when he unloaded the luggage from the car.
Seating areas and a dedicated TV viewing alcove encourage guests to hang out in the lobby. The 24-hour food bar (food for sale) is a welcome change from the typical hotel vending machines. It even includes Starbucks coffees, a limited hot food selection plus alcoholic beverages. A separate eating area housed the complementary continental buffet breakfast.
Our king room offered a separate living area with sectional sofa, where a large flat panel TV pivots allowing viewing from the bedroom or the sofa. Of course, I always appreciate free wireless internet. A dedicated desk area with convenient electrical plug-ins (a rarity in hotel rooms) made connecting that much easier.
The layout of our room would have made an excellent headquarters for an extended stay in Plano. I'd love to tell you about the free breakfast but our comfortable bed encouraged us to oversleep, so we missed out. But, with Hyatt Place's convenient location, it wasn't hard finding another breakfast spot.
I'm looking forward to the same friendly service on my next stay at Hyatt Place in Plano, TX.
If You Go:
Hyatt Place Plano
3100 Dallas Parkway
Plano, TX 75093, USA
Phone: 972 378 3997
Photo courtesy Donna L. Hull
Review by Donna L. Hull, My Itchy Travel Feet, The Baby Boomer's Guide to Travel